Stephens Pharmacy and Northeast Med-Equip is an authorized distributor of
The ZOLL® AED Plus® Defibrillator.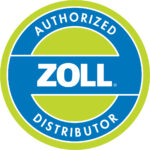 The Only AED With Real CPR Help
The AED Plus® is the only AED with Real CPR Help®, real-time CPR feedback to help rescuers save a life. Only half of all sudden cardiac arrest victims will need a shock, while 100% will need high-quality CPR. Real CPR Help guides you every step of the way, telling you—and showing you— whether you need to "Push Harder" or whether you're providing "Good Compressions."
Providing CPR is stressful, even for medical professionals. Recognizing this, ZOLL introduced Real CPR Help. Since then, numerous studies have confirmed how important CPR is to survival from sudden cardiac arrest and how difficult it is to gauge whether you are doing it well.
Contact us for more information on purchasing a Zoll AED Plus.